Lost Horizon
Found?
Welcome to Shangri-La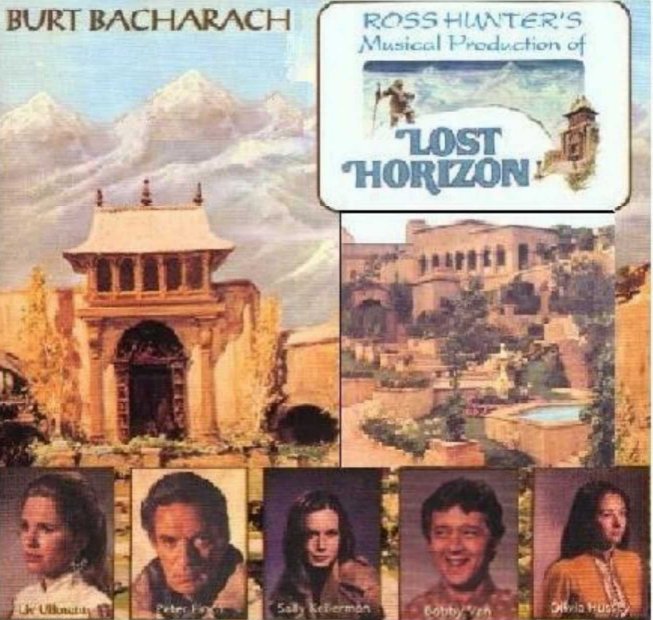 (and practice your Portuguese at the same time!)
Plot Summary for Lost Horizon (1973)
This retelling of the classic tale of James Hilton's Utopian lost world plays out uneasily amid musical production numbers and Bacharach pop music. While escaping war-torn China, a group of Europeans crash in the Himalayas, where they are rescued and taken to the mysterious Valley of the Blue Moon, Shangri-La. Hidden from the rest of the world, Shangri-La is a haven of peace and tranquility for world-weary diplomat Richard Conway. His ambitious brother, George, sees it as a prison from which he must escape, even if it means risking his life and bringing destruction to the ancient culture of Shangri-La.

High Lama
Filming Locations for Lost Horizon
Tucson, Arizona, USA Bronson Canyon, Los Angeles, California, USA Mt. Hood, Oregon, USA Cascades, Washington State, USA Lake Chelan, Washington State, USA

Technical Specifications
Film negative format (mm/video inches)
35 mm
Cinematographic process
Panavision (anamorphic)
Printed film format
35 mm
Aspect ratio
2.35 : 1
Cast
Literature for Lost Horizon (1973)
Original Literary Source
Hilton, James. Lost Horizon
Release dates
Country - Date
Sweden - 19 September 1973
Finland - 23 November 1973

Business Data

Budget
$6m (USA)

Gross
$3m (USA)


Soundtracks
This soundtrack is available from Amazon.com
(Search "Lost Horizon")

Please note that songs listed here (and in the movie credits) cannot always be found on CD soundtracks. Please check CD track details for confirmation.
--------------------------------------------------------------



"LOST HORIZON"
Written by Burt Bacharach and Hal David (II)
Performed by Shawn Philips
Courtesy of A&M Records

"SHARE THE JOY"
Written by Burt Bacharach and Hal David (II)
Performed by Olivia Hussey

"THE WORLD IS A CIRCLE"
Written by Burt Bacharach and Hal David (II)
Performed by Liv Ullmann and Bob Van

"LIVING TOGETHER, GROWING TOGETHER"
Written by Burt Bacharach and Hal David (II)

"I MIGHT FRIGHTEN HER AWAY"
Written by Burt Bacharach and Hal David (II)
Performed By Peter Finch and Liv Ullmann

"THE THINGS I WILL NOT MISS"
Written by Burt Bacharach and Hal David (II)
Performed by Olivia Hussey and Sally Kellermann

"IF I COULD GO BACK"
Written by Burt Bacharach and Hal David (II)
Performed By Peter Finch

"WHERE THE KNOWLEDGE ENDS (FAITH BEGINS)"
Written by Burt Bacharach and Hal David (II)
Performed by Liv Ullmann

"QUESTION ME AN ANSWER"
Written by Burt Bacharach and Hal David (II)
Performed by Bob Van

"I COME TO YOU"
Written by Burt Bacharach and Hal David (II)
Performed by Peter Finch and Liv Ullmann

"REFLECTIONS"
Written by Burt Bacharach and Hal David (II)
Performed By Sally Kellermann

Lost Horizon
Written for: Shangri-La (1956)
Lyrics: Jerome Lawrence & Robert E. Lee
Music: Harry Warren
---